[fbnotliked][fblike fanpage="http://www.facebook.com/theshiftcenter"]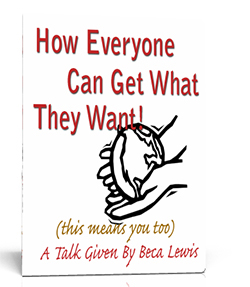 [font face="Droid Sans" color="#000000″]We LOVE it when you like us!
Just click like and you will immediately have the audio and download links[/font][/fbnotliked]
[fbliked]

[font face="arial" size="18″ color="#000000″]

Thank you for the LIKE!

[/font]
Listen to, and download the talk: How Everyone Can Get What They Want (Including You & Me)
PLUS: Have you ever wondered how to tell the difference between the "good voice" and the "bad voice". You can download our special report that gives you 10 very simple ways to tell. This is just another way to thank you for making The Shift!
Click Here To Download
[font face="Droid Sans" size="16″ color="#000000″]
Before you go – why not sign up for The Shift Ezine?
[/font]
I am sure you will enjoy the stories and examples, and you will always know what is happening in terms of specials and classes.
Your email address will NEVER be sold or given to anyone. That is my promise to you!
Shifting With You,
[/fbliked]